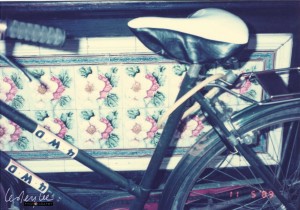 Every now and then, I go for a walk with my camera to record a few of the old buildings in Klang. When I came home, I matched them with old photos where I have them and this is the result. The photos here are all of buildings on the older part of town, on the south side of the river.
It took me a while to realise that the lovely tiles I've been looking for below the glass shopfront of the 'First Class Bar' since I photographed them in 1989, may actually be still there, hidden behind the nasi lemak stall which does a roaring trade outside the Chong Kok, not bar, but kopitiam. I've been back to check and sure enough, there they are, but you have to go in the morning when the food stalls that are parked in front of them in the afternoon, are out doing business. That was a good excuse for a cup of the excellent kopi and a plate of roti bakar & kaya inside.
There are plenty of interesting stories to tell about this, and many of the other old businesses in Klang town. I can see I will be kept busy doing research.