Henry and Catherine Holland lived in Tower Hamlets in London, England during the 1881 Census, where they were listed as having three children, Marion C, Henry Charles and Elizabeth. Henry (29) was identified as a Ship's Steward, while Catherine (30) was a Dressmaker and Marion aged 7 was a scholar. Henry Charles was 2 and Elizabeth was only 4 mths old.
Henry next appears in 1885 in Australia, when he paid a deposit for his family to join him in Australia. His address was given as Milkingay, NSW. This is the name of a lake on Avoca Station (near Wentworth) where he was apparently working.
Henry sponsored his family to migrate to New South Wales. He paid £2 two pounds for Catherine (aged 34) and  £1 one pound each for Marion Catherine (12), Henry Charles (8), Elizabeth (5) and Hannah (3). They arrived in Sydney on board the Energia on 4 Jun 1886.
Given that Henry was able to save enough to bring his family to join them and that he now had 4 children, he clearly arrived before 1885, but left after Hannah Grace was conceived. This is the most likely window as he had three children listed in the 1881 census, Marion (Catherine), Henry (Charles) and Elizabeth (Leticia Rose) but when Catherine arrived in Australia in 1886, she came with four children, the youngest, Hannah, was 3 years old.
Initially, I couldn't find can't find any immigration records for Henry between 1883 and early 1884. He was not listed either as an 'assisted' or unassisted' immigrant. There were a lot of ships that arrived in Sydney during the period covered, but they don't list the crew. I also checked this useful site for crew.
Henry's job listed in the 1881 census was 'Ship's steward', so the only possible candidate was Garonne, which arrived 14th September 1883, the year Hannah was born which listed an H. Holland AB age 33. Whether he 'jumped ship' or was given permission to leave and stay in Australia, I'm unable to determine.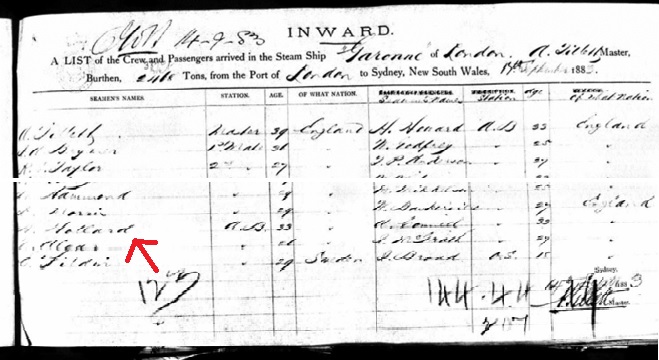 An Able Bodied Seaman (also called an Able Seaman, or just AB for short) works on a ship's deck and is a rank above an Ordinary Seaman (OS), because they have more experience on their seafarer resume and more sea time under their belt. They answer directly to the Bosun who is in charge of the deck crew and the contact between crew and officers.
Catherine Holland
in the New South Wales, Australia, Immigration Deposit Journals, 1853-1900
Name:
Catherine Holland
Age:
34
Birth Year:
abt 1851
Place of Origin:
London
Immigration Date:
4 Jun 1886
Ship:
Energia
Sponsor Name:
Henry Holland
Deposit Date:
28 Aug 1885
Immigration Group (Names)
Catherine Holland
Catherine M Holland (Marion C) (later Ingram)
Henry C Holland
Elizabeth L B Holland  (Rose Dunstan)
Hannah G Holland    (Grace Collingburn)
Transcript from  The Sydney Morning Herald (NSW : 1842 – 1954), Sat 5 Jun 1886  Page 15.
ARRIVAL OF THE ENERGIA WITH  IMMIGRANTS.
The Orient Company's chartered steamship Energia, from Plymouth with Government immigrants entered the Heads shortly before 8 o'clock yesterday morning and anchored in Watson's Bay for medical inspection. The acting port health officer, Dr. Pearce at once visited the ship, and was soon afterwards followed by the president of the Board of Health and the secretary. On examination and inquiry, it was found that there had been no fewer than 38 cases of measles during the voyage, the last two occurring just before the vessel arrived in port, but when the vessel anchored all had recovered except nine cases, viz, three women and six children. The vessel was then ordered to proceed to Spring Cove for disinfection, and the order was carried out. The sick were soon afterwards removed from the vessel in a steam launch, and conveyed thence to the Coast Hospital at Little Bay, and those who were considered liable to contract the disease were ordered to be landed at the quarantine station. No time was lost yesterday in proceeding with the fumigation of the vessel, and the cleaning of the clothing of the passengers, and there is every probability that, should the weather keep fine and no further cases of measles occur, the ship will be released on Tuesday, and come up to the Orient Company's moorings in Neutral Bay.    Despite the epidemic of measles, the death-rate was remarkably low, only two children having died, one aged 2½ years, on May 15, and the other two years of age, who died on Friday, both from measles. There was one birth. There are altogether 624 immigrants on board, who are classified as follows: -104 married people, 121 single men, 222 single women, 80 boys, and 88 girls under 12 years of age, and 9 infants. Dr. L. R. Huxtable, who has made several successful voyages with immigrants, and was last here in the Belgic, has acted as medical superintendent, Miss Chicken is matron, Miss Munro and Miss Davey are sub-matrons, and Mr. Robinson is dispenser. The immigrants are of a highly respectable class, and have throughout the voyage behaved admirably. The single women consist largely of domestic servants, cooks, housemaids, laundresses, &c. Among the men are many farm labourers, together with grooms, gardeners, miners, painters, plumbers, bricklayers, carpenters, masons, &c. Save the measles, which appeared on the second week out, there has been little s sickness during the voyage, the unusual length of which was enlivened by several well-conducted concerts and athletic sports. After passing the Cape the weather was exceptionally fine and favourable, particularly so during the last week of the voyage. St. Helena was visited for the purpose of obtaining an additional supply of sulphur for disinfecting purposes, but the total supply obtainable in the little isle was only 56lb. The Queen's birthday (24th May) was celebrated by a very brilliant pyrotechnic display, accompanied by every demonstration of loyalty. The Energía is a steamer 3177 tons gross register, and is commanded by Captain A. Child, who was last here in the steamship Hampshire.
He gives the following report of the voyage: –
The Energia after embarking the immigrants and their luggage, left Plymouth Sound on April 8 at 6.30pm., and experienced strong westerly winds and very heavy sea, owing to which the ship rolled heavily for two days , but after that fresh winds and clear weather were met with across the Bay of Biscay. The island of Madeira was passed on April 14, and St. Vincent was reached on the 18th at 12 a.m. The bunkers were replenished, and the voyage was resumed on the 19th at noon. The Energia crossed the Equator on the 25th, and arrived off James Town, St. Helena, on the 30th, having had moderate winds and fine weather from St. Vincent. From St. Helena the Energia met with fresh to strong variable winds and un- settled weather till passing the meridian of the Cape of Good Hope on May 9 in 38° S lat., and when coming across the Southern Ocean between the parallels of 39° and 40° S had fairly steady westerly winds till off Cape Leeuwin, when easterly winds set in, accompanied with fine weather and a very high barometer. On the 2nd instant she signalled off Cape Nelson and arrived off Sydney Heads at 3 a.m. yesterday morning. Captain Child adds that, with the exception of the boatswain having his right leg broken, through being knocked down during a fresh gale on May 18, nothing remarkable has occurred during the passage, and the immigrants have conducted themselves in a most quiet and orderly manner throughout.
The Ship's arrival manifest gives more information about the new arrivals, including their religion and whether they could read and/or write.
Aunty Grace noted in her memoirs that they arrived on the 9th, her father's 8th birthday, though this record is more likely to be correct. It is possible that they left for a place called the Nob near Hay where they lived before 1893 when they went to live at Wentworth. Alfred, Bert, Maud & Adelaide were born in Wentworth, before their father Henry died from Scarlet Fever on 3rd April 1901, aged 49. Grandma Catherine died on 25th June 1927, from Pneumonia.