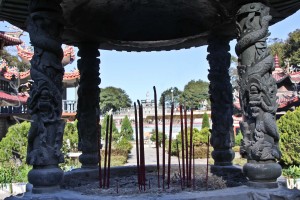 Our family descends from Lee Teow Eng, who was granted the lands around where the family lives, by the Emperor Yong Le, one of the great Ming Dynasty Emperors. In 1410, at the time of Cheng He's travels, Lee Teow Eng set up his home in Fujian Province and his descendents can now be found in all corners of the earth. The Teow Eng Kong (Association of descendants of Teow Eng) has kept records through the generations which have survived all sorts of disasters. There is a temple on the site of the original home and a home of one of the 8th generation of the family is still in good condition. The family has recently completed a family temple in the village, with contributions from some of the far flung descendants and many return regularly to visit.
During the Cultural Revolution, many temples were destroyed. Once of these was a temple in the city of Yong Chun which housed the mummified body of a deity. The temple and the relics, including the body were smashed and dispersed. As testimony to the spirit of the people of Yong Chun, the temple faithful carefully collected the bones and what they found, they hid away. In the past few years, with a loosening of the strictures on religious practices, it was decided to rebuild the temple, but this time, on top of a hill overlooking the city. The new temple is beautiful and it is said that the deity was put back together , or at least his bones, as a result of a medium who, in a trance, identified where all the bones were and with which families. One interesting feature of the temple is a small courtyard with a surrounding roof, on which no leaf will ever stay, despite all the other nearby roofs being covered in falling leaves.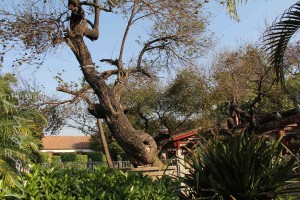 Not all the temples were destroyed, some survived, if not entirely intact, then at least in a reasonable condition and some were left pretty much alone. The Kaiyen Temple Complex is Quanzhou is one such example. The two beautiful pagodas still stand as does the well protected 1300 year old mulberry tree in the grounds.