All the nasty storms were been having the last few afternoons do contribute to beautiful clear mornings, the sort that make me so glad I no longer spend them admiring them from inside my car on the long drive to work.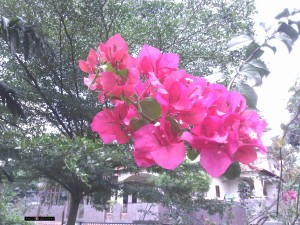 So I took my phone out into the garden and started snapping. Most of the bouganvilla aren't flowering, thanks to the great enthusiasm for order by someone near and dear to me who keeps cutting them into interesting shapes. However, the straggly red one that refuses to be treated that way is putting on a show. Many of the white flowers for some reason are shy at the moment. The lovely little pigeon orchids which grow on many of the trees, the very fragrant soft flower whose name I don't know and the white frangipani, which has only a few blooms left, mostly on the ground, are all waiting for their moment I guess.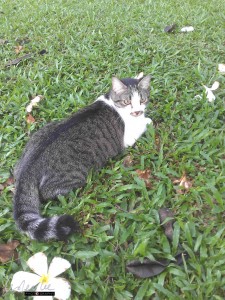 To put that in perspective, I had the assistance of one small grey tabby. He was actually looking at the birds, all of whom were on to his plan, so they stayed well out of harm's way. One flower I can't get to appear is the hydrangea. I've got two from different people, which I've separated into a few pots and put in various positions – morning sun, full sun (burns the leaves) part shade. Still nothing. My little purple vanilla orchid, which used to flower regularly, seems to have gone on holiday as well, maybe it will reappear like the beautiful orange one, given to me at work years ago.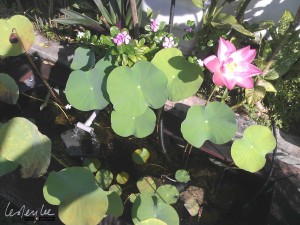 One of my favourites is the very reliable lotus in the old bathtub. Unlike the fuller pink and white ones that don't bloom so often, this one blooms whenever there's full sun on the pond.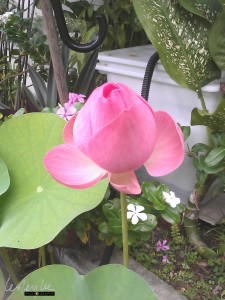 It opens in the morning and closes towards noon, and lasts for a few days, unlike the others which look magnificent for a few hours and then start losing their leaves rapidly. As I was walking around, each flower reminded me of some particular person or event. Many of our plants have been with us for years and a few even came with us from our old house many years ago. I think of the people who gave me particular plants and the reason behind the gift. That always makes me smile. Especially when I think somethings has been lost, but it reappears, even more beautiful than it was before. For many of our orchids I have Chhin to thank. She was the one who would see the tree orchids in the gumtrees in the vacant land next door and climb up to retrieve a bit.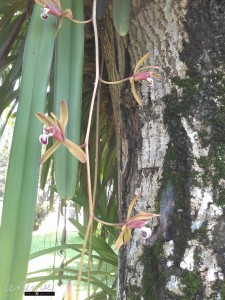 She only did it when I wasn't around and stopped it promptly when she met a snake looking back at her. She confessed that she slid down that tree VERY fast. Her other little trick was to watch out for orchid pots with 'dead' plants in them, thrown out quietly by the maids next door. She somehow managed to bring them back to life and once they were well established, would separate them in two and give back half to her friend who'd thrown it out and was thus very grateful. Everyone was a winner there. One of the plants we inherited when we bought this house was an unusual double hibiscus (bunga raya).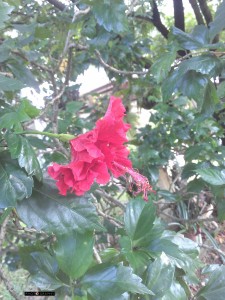 It's a deep rich red and the original is still where it was, but we've planted pieces around the garden in different places. It loves full sun and when in flower is really magnificent. None of my other bunga raya are nearly as prolific or beautiful. I could write a story about every photo here but that will take a while and make this very long. I do realise that writing about the flowers in my garden makes me sound like an old biddy. Well, too bad. Doesn't matter what it is, if it's beautiful, I'll take a photo of it and write about it if I want to.
:-)