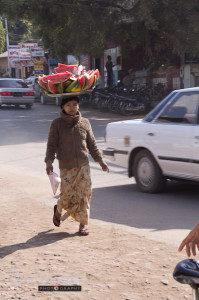 The thing I like best about travelling independently is having the freedom to adjust things as we go along. Of course, there are some constraints imposed by time, it would be lovely to be able to go somewhere and just wander until I've done everything, but like most other people, I have neither the resources nor the freedom to do that. So given what is available to me and my travelling companions, we try to see as much as we can by being travellers, rather than tourists. We eat in local food stalls and cafes, we talk to the people we meet in shops, in the markets and on the streets and we walk, catch trains and trishaws, tuk-tuks and so on. So far, we've never had any dreadful experiences and apart from a couple of unwise eating choices, have generally had no major tummy upsets. We were a bit concerned about going to Myanmar, since there's not a lot of information available, but sites like Trip Advisor, The Man in seat 61 and other similar sites are sharing more and more information about what used to be a big unknown. We found the people to be pretty much like us, the country is a melting pot of people from all over, with all the major religions well represented as well. We didn't go to Myanmar for any political reason and that didn't keep us away earlier, but we were very interested to see photos of Aung San Suu Kyi widely in display in shops and on the street.  The general cleanliness and maintenance of infrastructure of the cities, particularly Yangon and Mandalay, isn't wonderful, but that could be partly attributed to the fact that it's the dry season and very dusty. With the new interest in the country lots of foreigners are going in looking for 'opportunities'.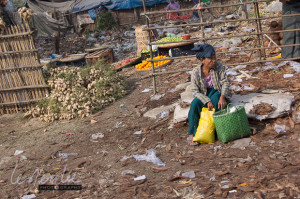 Hopefully the old buildings will be refurbished rather than replaced and it would be a blessing if the waterfront along the river could be renewed, there are currently lots of rather ugly godowns taking up the space which could be beautiful boardwalks and parks.
Life is obviously pretty tough for a large proportion of the population and there is a clear division between rich and poor. Yangon is much larger than we expected and is really a collection of townships which are sort of merged together, with the centre of the city more or less around the Sule Pagoda, south of the railway line. Some of the highlights and observations that made impressions on me – the huge avocados for sale. They were good too and we brought three home with us.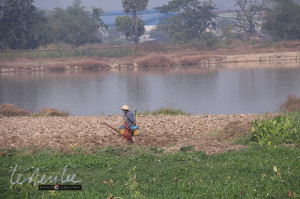 The turf growers along the railway lines. I was particularly intrigued by the watering cans – a pair of 4 gallon drums with a spout attached which had holed drilled into it. Slung across the shoulders, the water-er could water double the space within the same time. We watched farmers ploughing, planting, harvesting and winnowing rice at various locations and we saw the toddy palms with their ladders to the tops which grow around the edges of the rice fields. Because we were a bit late leaving our hotel in the morning we were to depart from Bagan, we were lucky to find ourselves in the middle of a celebration – the young boys going off a monks. A little bit of serendipity.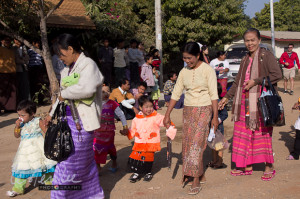 We were equally interested in the hawkers along the roads as we wandered about. They looked very familiar, though selling slightly different things. There were sugar cane juice sellers, people selling all sorts of kueh (cakes) and people sitting on small stools dipping meat on sticks into bowls of steaming broth. There were a few people selling Eu-char-koay, but they were selling it with curry, though we didn't try it because the roads were very dusty. One thing we saw in a number of locations was someone with small birds in a basket. They were obviously selling the birds for release, but they also sold corn for you to feed the many pigeons flying about.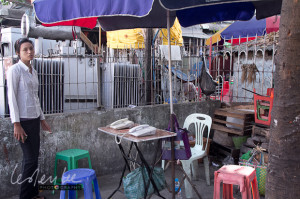 We knew before we arrived that our phones would be useless for calling, though we had internet, not brilliant, but it worked, in all the hotels. Some of the cafes had it available as well, so we were able to stay in touch. It was quite nice to be 'cut off', sort of, for a week or so. Because mobile or public phones are so non-existent in Mynmar, the locals have come up with an innovative response using land lines. Here and there around the city, you will see a few regular house phones set up on small tables (or sometimes in a booth, with advertising!) where you can go to book your calls. They probably won't be needed for too much longer, progress will come fast, including in the provision of the communications systems.