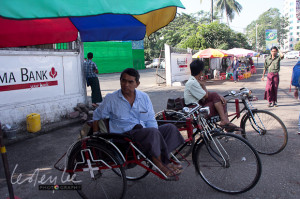 Getting from place to place in Myanmar is not really that difficult, but it does require some tenacity and a large pinch of faith. This is because finding out information before arriving in the country is a challenge, there are no official websites apart from the ones belonging to the airlines. We quickly crossed off the airlines, flights were plentiful but expensive. Fortunately, unlike our flight in Laos when we returned to Vientiane from Luang Prabang by air to avoid 12 house cramped in a minivan, we would be covering new ground and could catch trains. Assuming, that is, that they would be running when we wanted them to. The 'man in seat 61' had the most up to date information available about long distance trains, buses and ferries, but even he had a rider to say things might have changed. Upon landing at the new and modern airport, first order of business was to change currency. This took some time, so I made it my job to identify the best way into the city and our hotel. That was easy, they have a coupon system (pay in Kyat though, it's cheaper) so we set off with our taxi driver through the rush hour traffic. Yangon is much larger than we expected and it took us nearly an hour to get into central Yangon, though we did see quite a few back streets as we went along a few 'shortcuts'. Our taxi driver was a very chatty fellow and explained to us that they do drive on the right, despite his taxi being a right hand drive vehicle. Apparently left had drives are much more expensive and it is cheaper to import second hand right hand drive cars from Japan. The country used to drive on the right until the seventies, when the government decided that it would be good to change.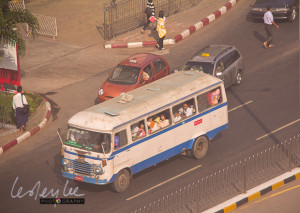 Some of the buses still hark from that era, though most of them have been modified so you don't jump out the wrong side into the traffic. The buses! We didn't catch any, but we did watch fascinated as the conductors spruiked fares at the bus stop along from our hotel. They jump off and try to get passengers at every opportunity or traffic light, or at least it looked that way. One thing we did notice too, was the lack of motor cycles. There weren't even a lot in evidence anywhere in the country, but apparently they are banned in Yangon. We weren't too sorry, it makes the roads a bit quieter and easier to negotiate than in most Asian cities.  I would do it again, especially as they did run when we wanted them to, overnight, thus saving a night in a hotel.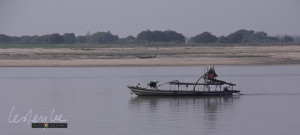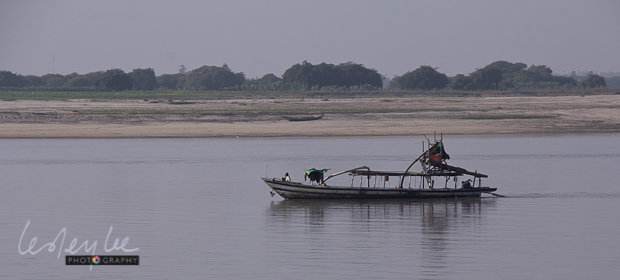 The highlight of our moving between places would have to be the ferry ride down the Ayerwaddy (Irrawaddy) River. You can see from the high banks what the difference in water level is between the wet and dry seasons. Travelling in the dry season shows just how much the sandy nature of the region affects the course of the river. The most important accessories for the captains of the boats are a pair of binoculars and a pair of depth sticks. As we moved down the river we saw at different points, men on the fronts of the boats using their long sticks to check if it was deep enough. We passed one unfortunate vessel firmly stuck and getting some assistance. We were also briefly bogged, but furious 'backpedalling' got us out and on our way quickly. Sand mining and dredging could be seen at many locations. There were clearly big operations with lorries ready to take the sand away, and some smaller single boat operations. Along the way we noticed water collection / treatment points, with pumping stations and large pipes taking water away. We passed many large barges carrying logs. Big logs. Probably teak. I felt mixed emotions seeing those going by, especially as there were quite a few of them. There were only two points where roads / railways crossed the river, the Inwa bridge near Sagaeng with two bridges for road and rail and another, closer to Bagan, which doesn't seem to have a name that I could find.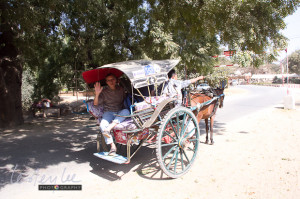 When in Bagan, we decided to try the horse-cart option of travelling round the pagodas. You can get a taxi for the day (nice and clean and probably quicker) or hire a bicycle (slow) and you need more than one day to see everything you may want, because you need to find each location. If we'd had a week, I think we'd have tried the bicycles at least once or twice, but it was good to have someone who could take us between the main pagodas in relative comfort and tell us a bit about each one on the way. It did mean we couldn't visit some of the pagodas further away, but we were happy with our selection although it would be good to have the opportunity to return for a longer visit in future.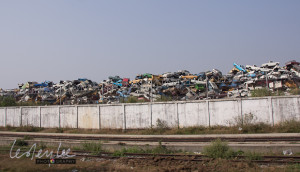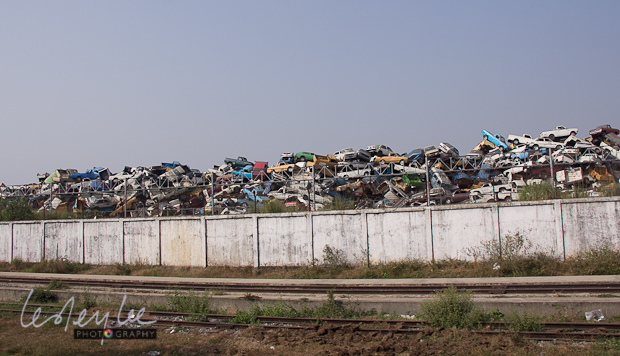 If you don't have the pleasure of a train journey from Bagan to Yangon, it would be a worthwhile exercise to take a trip on the Circular route in Yangon. Most of the stations are along the Yangon-Bagan line before the line loops round to the East, above the lakes and down the eastern side. As we were passing all the stations on the western leg on our way in, we were treated to the morning markets set up on the platforms and nearby as well as daily life passing by. One jaw dropper was the car graveyard. It looked like every old car in the whole country was piled here. It went on for hundreds of metres with vehicles piled maybe ten or more high. Junkyard Central!
Our favoured method of travel in Yangon was shanks's pony. Always handy, needs exercising and can be taken down one-way streets or jumped across drains or up over footbridges. Also free. Just needs to be fed every now and then and watered regularly. This is one reason we looked for a hotel in Central Yangon. It was close to everything and we were able to walk easily to the Bogyoke Aung San market in one direction and to the Pansodan Jetty in the other. We could stop when we wanted to for a rest or a bit more investigation and wrong turns threw up some unexpected sights. Like the little community along the back road on the way to the museum and the rows of rubber stamp sellers behind Sule Pagoda Road. We decided to give the very overcrowded river ferry a miss, especially as we were there when everyone was trying to go home at the end of the day. For a parting shot, the taxi drivers are like taxi drivers pretty much everywhere, some love to chat and are happy to make little detours. On the way to the airport, our driver was more than happy to take us past Aung San Suu Kyi's home. He even stopped so we could peep through the small window in the big gate. You can't see much, because the whole compound is now hidden behind a massive wall. However, it was a nice way to round up our trip to Myanmar.