Myanmar – Don't eat the Ulam!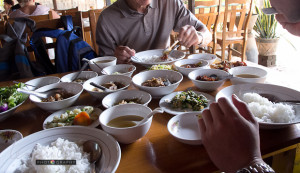 When you travel there is one rule you NEVER break, the one that says don't eat it if it's raw. Two of us broke that rule this time. Luckily we weren't too badly affected me less so, and the Chinese medicine helped a lot, but that little reminder never hurts. What did we eat, well, Myanmar food is similar to what we're used to, but different as well, in the way it's eaten. Our horse-cart driver KoKo recommended us to a very nice little restaurant just near the Ananda Pagoda in Bagan as we said we wanted local food. Apparently lunch is the best meal for this, a number of small dishes served with rice, soup and a bowl of raw veggies with dipping sauces. We all ate the cooked dishes and a few of the raw veggies  Baby eggplants, ladies fingers and so on. The one that probably did us in was the pegaga, a leafy little fellow that was really delicious dipped in the sauce. We didn't stop to think what the fertiliser might be and how it was applied.
Other than that, food was not a major problem. We ate local food in the hotel the first evening after we arrived, sharing the three set menus offering different main meat dishes and most of our other meals in Yangon were taken at Sakura, at a little cafe close to the Kyauktada Police Station in Sule Pagoda Road. They serve local / Thai food as well as some basic western dishes, local beer, great fruit drinks (the papaya juice is excellent) and coffee.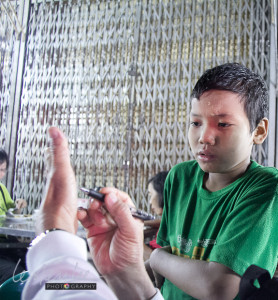 Mandalay was a bit more difficult. Not having much time in the city, we wanted somewhere near our hotel so we walked to a local shop recommended by the staff at the reception. It was what we'd know as a coffee shop / kopitiam / mamak stall, selling freshly made food and drinks. The pancakes sounded good so we ordered three banana ones. When they arrived, they were very like Malaysian murtabak, except much less oily and a little crispy. They were delicious and we ended up having mutton filled ones at a roadside stall later for dinner. At the second stall, the little boy taking our money tried to give us back too much change and was quite bemused when we explained the maths to him.
Apart from our lunchtime 'adventure' in Bagan, we enjoyed dinner at the Sunset restaurant along the river a few minutes walk from our hotel, the Thiri Malar. We were glad we had our trusty little torch, because there are no street lights and there were signs in our rooms warning us to stay on the paths because otherwise we many encounter snakes, scorpions and nasty prickles. We certainly heeded that advice. Our breakfast, eggs, toast and fruit with fresh pressed juice and tea / coffee was enjoyed on the rooftop terrance, admiring the view. There are pagodas everywhere and it is a very pleasant way to wake up and enjoy breakfast in the cool of the morning, even if your tummy is not completely happy. Before we left we had lunch just round the corner at the San Carlo restaurant. Home made pumpkin ravioli, spaghetti and hone pancake filled the cracks nicely before we set off on the train back to Yangon. The long distance trains do have restaurant cars, but we didn't try them out. We ordered food from the one on the Yangon Mandalay run, which was fine, noodles, but we didn't feel like rocking and rolling our way through the carriages in between to actually go there ourselves.